stylist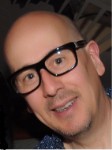 Eduardo Lazo Owner


Echos Hair Design is a boutique Salon opened over 21 years ago, and enjoys a very prestigious location in the best part of San Francisco Union Square & Financial District. It defines luxury both in its setting and its services. Echos Salon is led by creative directors, Eduardo and Jina. Together they maintain an infused team of stylists who are highly skilled masters of their craft. The complete team of Echos focus is always about the clients' unique styles, comfort and not just following current trends but creating them.

Eduardo designed and created Echos with great care to ensure the décor is modern, elegant and subtle, creating an atmosphere of refinement where clients can unwind, recharge, and feel beautiful. The salon large windows welcome in a lot of natural light and fresh air - perfect for coloring and providing a relaxing sense of space.

Eduardo's clients get more than just a haircut, they leave with a customized look that matches their individual style and personality and his signature multi step techniques for color applications and color corrections create the perfect look for his discerning clientele.

Eduardo can be reached at 415-397-1177

Eduardo is also available for traveling assignments and private sessions.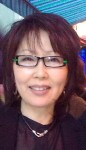 Jina Lazo Owner
Jina has developed signature styles that are at once modern, edgy and sophisticated, this has earned her a reputation in San Francisco as a trend-setting hair stylist and ultimate professional throughout her extensive experience, easy-going personality and attention to detail. In early 1990 Jina and Eduardo opened Echos Hair Design.

Jina can be reached at 415-989-6648
Kathy S.
For over 17 years Kathy has brought her spectacular precission in her work to her clients creating bright dimensional blondes as one of the top tier colorist in San Francisco. Her talents has earned her a loyal following who adore the way their new color garners them show-stopping attention.

Kathy can be reached at
Adriana
Adriana is sought after for her ability to give a men's cut that grows out beautifully. She is as passionate about her craft today as when she first started. As a highly trained and specialized cutter she is known for her men's cuts that range from edgy to clean cut and her ability to sculpt and manipulate hair is exceptional in order to create the perfect result for each client.

Adriana can be reached at 415-982-8893
Stacey Miller
Regional Educator for Rene Furterer

After leaving the corporate arena, Stacey began training for her new career as a hair stylist with diPietro Todd Salon in San Francisco. Upon successful completion of the advanced training program,she built and sustained a solid, bustling clientele. Stacey joined the Creative Team and taught blow-drying to the salon's newest stylists. As Development Director, she cultivated the Foundation (blow drying) program and was successful in leading it in new directions.

Stacey was also very active in the creative side of the craft by contributing to diPietro Todd'sannual hair shows as well as mentoring students as they created their own hair showcases. She has been involved in countless photo shoots and fashion shows including; Macy's Passport, the Expression Fashion show on Alcatraz, and the Christian Lacroix fashion luncheon. Her editorial work can be found in Thirteen Minutes Magazine, and a Chronicle Books (kitschy) publication called Porn for Women.

Currently Stacey has taken a new role as Regional Educator with Rene Furterer. It is a brand that she has been passionate about for the last ten years.
Amber
Amber's bursting altruism and innate attraction to individualism defines her character as well as her hairstyling designs. Through fifteen years as a stylist in Paris, Los Angeles, now San Francisco, Amber has a remarkable ability to sense each client's unique style and create a look perfect for their personality, the season, and the trends.

Amber has a particular passion for styling brides, bridal parties and other special occasions.
Amber can be reached at 415-397-1177